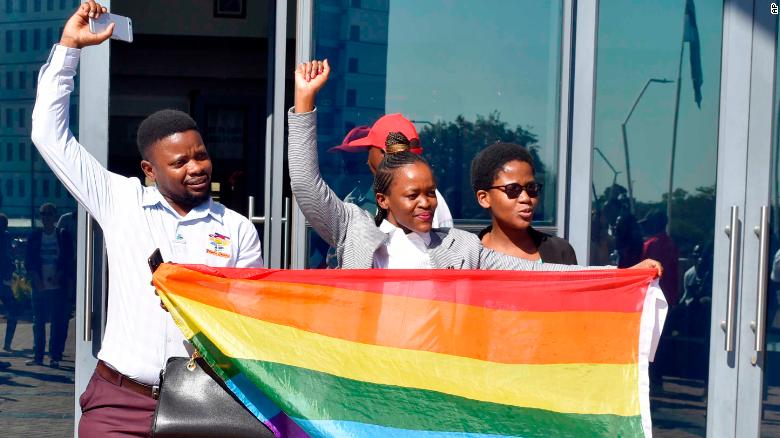 Lagos, Nigeria (CNN)Botswana's High Court ruled for LGBTQI rights in the southern African country on Tuesday — another historic decision in favor of equality, diversity and dignity.
The court unanimously ruled that the legislation was discriminatory, unconstitutional and against the public interest.
And let's face it, it is a huge victory — especially after
last month's let-down in Kenya
, where the courts failed to decriminalize their own colonial-era anti-gay sex laws.
Of course, there are those who will respond to Botswana's landmark ruling with confusion, and rage about the so-called 'scourge of homosexuality' sweeping across Africa.
When you ask these people what angers them so, they usually respond with something like, 'It is not in our culture as Africans.'
This statement has always been ridiculous, long before today's ruling.
This is not only because so many of our homophobic laws were in fact a poisonous gift from our British and Portugese colonial masters, but also because people are remarkably unaware that many African countries are not in fact homophobic by law.
Take the past three decades, for instance. Progress has been too slow for comfort, yes, but taken as an arc of history, after the initial 10-year lull between South Africa affirming the rights of LGBTQ people in 1994 (formally adopting it in 1996) and Cape Verde doing the same in 2004, the pace has noticeably quickened.
In the country's Creole language, there are no gender pronoun differences, and homosexual (and trans) people have lived very open public lives for a long time. This is a small country surrounded by homophobic nations including Guinea, Gambia and Senegal, but homosexuality has never been illegal here since the adoption of its penal code in 1993.
However the absence of a law does not mean that some LGBTQ individuals have not been detained in the past in some of these countrie