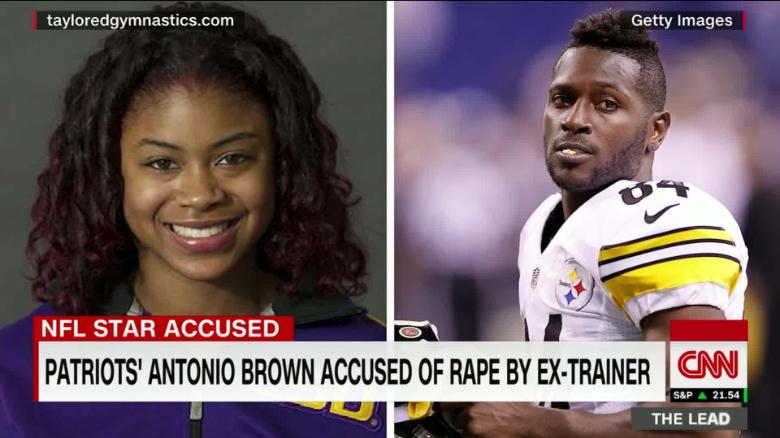 There is no doubt he is one of the best to play at the wide receiver position.That can't be deny or question.He makes the game of football extremely easy.Now, like many others, who have played this game of football as he does will tell you it comes with endorsements as I like to say with benefits.Today,Nike and helmet manufacturer Xenith both ended sponsorship contracts with Brown this week in the wake of the sexual assault and rape accusations.
I was daringly eager to know why he would've been released from the Patriotic when he isn't yet convicted according to the court of law, but again they can do whatever they want even if he isn't convicted.Before I proceed further let me drop the new that is  pending against one of the greatest to play this game of Football.
According CNN "Taylor filed a lawsuit against Brown in the U.S. District Court for the Southern District of Florida earlier this month.
"These heinous acts have inflicted severe and dramatic damage on Ms. Taylor, irreparably harming her," the lawsuit reads. The alleged assaults and rape "severely traumatized" her and induced "near-daily panic attacks and suicidal ideations."
Brown's attorney responded to the lawsuit and accusation in a statement on Twitter last week, writing that his client "denies each and every allegation." The wide receiver claimed he and Taylor had a "consensual personal relationship."
Brown started the football season with the Oakland Raiders, but the team released him at the beginning of the month. When Taylor's accusations became public, the Raiders said in a statement that they "did not have any knowledge" of the alleged incidents.
Back to my discussion as previously,will he get a shot back at the NFL? With the way things are shifting in this league,do we think owners are prepare to have drama in their locker rooms,especially the type of player we are talking about. I don't want to see such a talent wasted too long,especially,what he brings to the game of sport.Our hope and continue prayer is that this situation goes away as quit and fast as possible.